Self-Service Ordering at the Table

Self-service ordering reduces floor staff work load and helps you run operations with a leaner staff.
Ordinarily, floor staff spend abut 35% of their time taking orders. Letting patrons order for themselves greatly reduces floor staff work load.
Müşteri Gereksinimleri
Daha fazla ürün sipariş etmek için müşterileri ikna edin

Kendi kendine sipariş ile insan gücü ihtiyaçlarını azaltın

Personelin konuk ağırlama seviyesini arttırın

Sipariş hazırlığında hataları en aza indirin
Make floor work more efficient
Self-service ordering greatly reduces floor staff work load. Relieving floor staff of order taking makes table setting, clean-up, and patron seating go more smoothly, helping to boost hospitality at your establishment.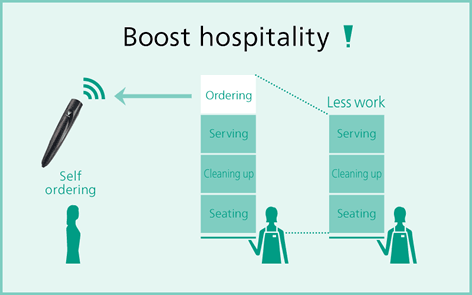 Doing away with lost orders
During busy hours, floor staff cannot always respond immediately when patrons are ready to order. With self-service ordering, patrons can order whenever they like, which greatly reduces lost orders.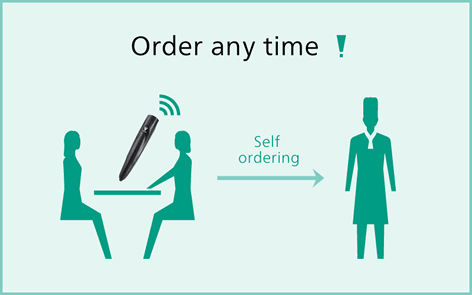 Improve customer satisfaction
Not having to take orders lets floor staff clean up tables more efficiently, which helps get patrons seated more quickly. Since patrons don't need to look for waiters, they can order at their own pace, allowing greater enjoyment of time spent dining.