DIGI Europe to exhibit at Sustainable Foods London 2022 (Booth 43)
29 Mar, 2022
DIGI Europe will be exhibiting Sustainable Foods London, held March 30-31st at Business Design Centre, London (Booth 43).

The Sustainable Foods Conference, now in its 2nd year, brings together the most innovative sustainable food brands and entrepreneurs with like-minded global investors, buyers and consultants.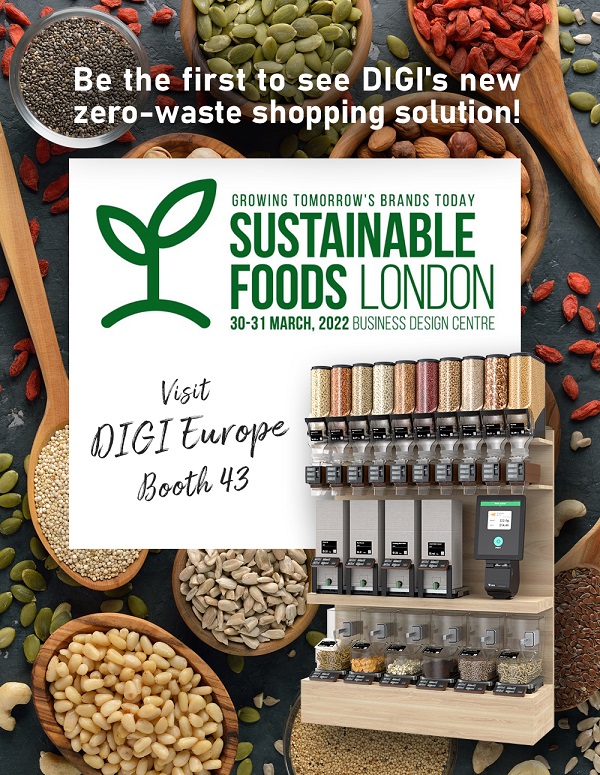 Frictionless Zero-waste Shopping Technology
DIGI's new All-In-One Bulk Solution will make its U.K. debut at Sustainable Foods London. Customers can view product weight and price in real-time directly on the Hopper, Scoop and Liquid Scales while purchasing only the amount they need. The solution contributes to a frictionless zero waste shopping experience and a reduction in food packaging and food loss, eliminating waste and promoting an eco-friendly lifestyle. Linerless labels and e.Sense solution will also be showcased.
Event:  Sustainable Foods London
Dates:  DAY 1 - Wednesday 30th March 10am – 5.30pm (Registration opens 9.30am)
     DAY 2 - Thursday 31st March 10am – 5pm (Registration opens 9.30am)
Venue:  Business Design Centre, 52 Upper Street, Islington, London N1 0QH
URL:   https://sustainablefoodsconference.com
*Tickets are FREE for Retailers/Buyers/Investors with pre-registration.