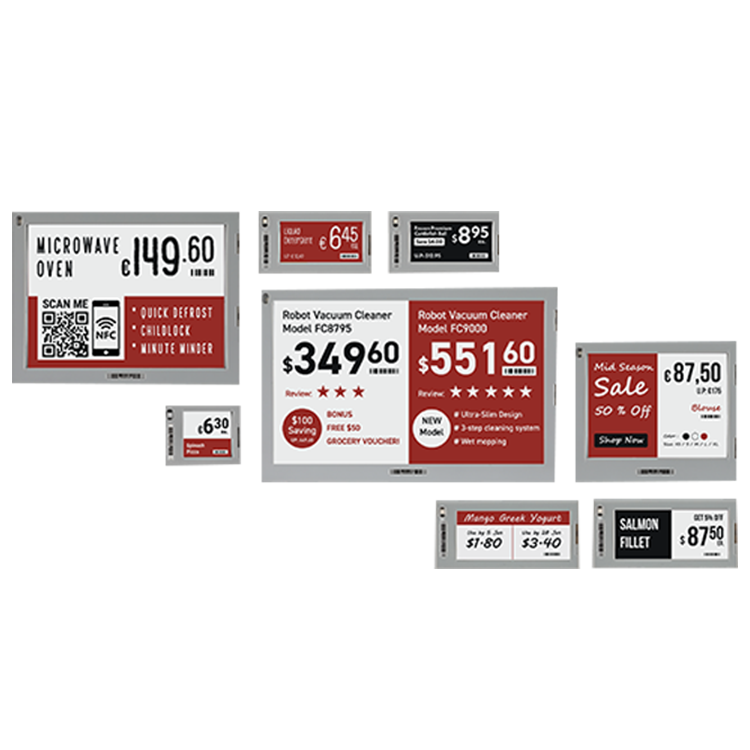 ESL- T@POP
Electronic Signage Solution - Redefine Simplicity
InfoTag is an enterprise-grade electronic shelf label (ESL) developed to accelerate in-store digitisation. This smart solution can be embedded into existing IT systems, helping businesses to establish an Internet of Things (IoT) infrastructure that grants pricing automation and elevates shopper experience.
InfoTag - Redefining Shelf Edge Solutions
More than just a digital price label, the InfoTag redefines simplicity with its array of versatile features that cater to both businesses and shoppers.

InfoTag can fit into various sectors and application areas, including supermarkets, pharmacies, convenience stores, department stores, logistics warehouses, DIY stores, home appliances stores and specialty stores.

Product Highlights
Compact yet powerful, the current line-up of InfoTags combines a range of key features to deliver the best ESL quality and performance in the market.
6 Display Sizes
Available in 1.54", 2.13", 2.9", 4.2", 5.83" and 7.5".

LED Flash Light
The built-in flash indicator features 5 different LED colours to increase visual attention on product status, such as promotions and merchandise picking to improve in-store engagement and productivity.

Customisable Frames Colours
Vibrant frame colours are available to deliver consistent in-store branding.

High Definition Display
3-colour full graphic e-paper display ensures high readability in all lighting conditions.

Split Screen
Accommodate additional PLU or pricing information to maximise shelf space and utilisation for higher return of investments. Ideal for products with smaller packaging such as bottled beverages and condiments.
Enhanced Durability
Designed with longevity in mind, the InfoTag is dust and splashproof for added robustness.

Standard labels come with an operating temperature of 5°C to 30°C while low temperature models operate from -20°C to 5°C. Power saving design increases energy efficiency, offering an average lifespan of 5 years.


Simple Infrastructure
With a minimal setup consisting of just the InfoTag, RF station and a handheld terminal, this lean infrastructure can be easily integrated into existing IT system to reduce operating and maintenance costs while granting swift deployments. Furthermore, each RF station provides extensive coverage of 1000sqm allowing businesses to build a highly scalable system for future expansion.

Simple Management
Forming the backbone of this ESL solution is DIGI's Central Monitoring System (CMS). A centralised management tool equipped with real-time monitoring and self-diagnostic capabilities, the CMS provides businesses with the ability to remotely initialise new ESLs and perform error-free price synchronisations across multiple locations. Moreover, its group management feature enables easy customisation of tag designs and price adjustments to be conducted across varying levels, hence allowing businesses to gain a competitive edge through price segmentation.
Simple Interaction
To lead businesses in their road to digitalisation, DIGI integrated several connective technologies in our ESL that are capable of elevating shopper engagement.

Integrated QR code and Near Field Communication (NFC) features open up new opportunities for businesses to drive omnichannel convergence and enrich shopper experience. By using their smartphones to scan or tap the ESL, shoppers can now gain access to useful product information such as ingredients and allergens. They can also be redirected to the online platforms to purchase products that are unavailable in-store.

Our ESL also comes with the InfoPortal, a cloud-based service that helps businesses leverage IoT data to enhance shopper experience. The use of beacon technology enables communication between the InfoTags and Bluetooth-supported smart devices allowing transmission of valuable geolocation data. These data can serve multiple functions, such as generating the shortest route to a selected product or heatmap visualisation for foot traffic analysis.
Simple Installation & Attachment
The universal rail system is designed to fit all InfoTag sizes on the same rail, giving businesses the flexibility to mix and match different display types on the same shelf. The rail system also comes with a built-in anti-theft feature to prevent thefts and any acts of mischief.

Attractive POP displays can be affixed directly onto the InfoTags without additional attachments to maximise marketing impact and boost in-store sales.

We also provide a comprehensive range of accessories such as clips, hooks or stands to adapt to different configurations and environments




e.Label
DIGI's ESL line-up also include the IP67 certified e.Label. Businesses can utilise these water-resistant and washable e.Labels in a wet environment such as the meat or seafood counters to comply with hygiene requirements.